Here at http://www.Electrical-Deals.co.uk, we have a huge range of products, from a variety of top name manufacturers. We have decided to have a look at each of our most recognisable brand names and look at some of our favourite products from them, which we supply.
Today we are looking at one of our favourite brands, Samsung. Samsung products are unique, in the fact that a lot of them are capable of being used cross functionally. For example, a number of the Televisions Samsung produce, will allow you to use your Samsung smart phone as a remote control for the TV. Recently we have been testing the Samsung galaxy gear smartwatch, which is compatible with a range of Samsung smart phones.
We also love the look of a lot of the products they produce, they all tend to have a real modern, stylish feel to them. So here we have it, we are looking at just four of our favourites ….
1) SAMSUNG WB30F – 16.2MP  SMART  WiFi  Digital Camera

We start of our look at our most loved Samsung products, with this fantastic digital camera. For starters the WB30F doesn't just have great results, it also looks great to. This stylish, compact camera, has a modern feel to it, while having a more classical design with a larger lens piece. Feature wise, it has so much for what is price wise, a budget model.
First of all it has a powerful 24mm wide angle lens as standard, which boasts an impressive 10x zoom feature. It is SMART, has a WiFi feature to instantly connect your photographs socially and digitally and also allows the user to film in high definition, with HD video. Possibly the best part of this is the price. We stock this brilliant digital camera at just £69.99, that's a HUGE saving of 65% !!!
You can find out more about this product or purchase here:  http://www.electrical-deals.co.uk/samsung-wb30f-16.2mp-smart-wifi-advanced-compact-digital-camera-in-white-.html
2) Samsung Galaxy S4 Smart Phone 4G (16GB)

Next in line we have the hugely successful Samsung Galaxy range or SMART mobile telephones. This is a real step up for the already hugely popular Galaxy range and this SMART phone really does live up to its hype. The S4 has a number of features and points of interest when writing this, however as I must be brief, we'll , make this short.
The screen is out of this world, delivering a full HD output, the 5-inch display dominates the competition. It's clear, bright and vivid, and there's very little it isn't great for in terms of apps and playback. The camera upgrade is impressive too, boasting a 13 mega pixel camera now on the rear of the devices. It's incredibly stylish, looks the part and, if we're being honest, it really is.
The Galaxy S4 is a great, great device, re-inventing what it means to own a brilliant smartphone in a number of ways. The gestures are cool, the touch-less experience amazing at times and in short, it's a wonderful phone you want to pull out of your pocket time and time again. Save 29% today, it's just £288.24 when you shop with Electrical-Deals.
You can find out more about this product or purchase here:  http://www.electrical-deals.co.uk/samsung-galaxy-s4-smart-phone-4g–16gb-white-frost-unlocked-android-technology.html
3) Samsung Galaxy Tab III 10.1″ WiFi 16GB Android Tablet
The Samsung Galaxy Tab 3 is a very stylish, easy to use tablet, which comes with 16GB of memory , as well as WiFi and a duel core processor amongst other great features. As mentioned, this lightweight unit still packs a powerful performance thanks to a Dual Core processor, as well as dual cameras on the front and rear of the unit.
Equipped with a 1.2GHZ Dual Core Processor, it can handle just about anything you ask it to do smoothly, quickly and expertly. Ideal for both professionals and casual users a like, this tablet provides everything you could ever want and more with a model such as this one. The best part? It's now available with us for £221.99, both online and in our showroom based in Manchester.
You can find out more about this product or purchase here:  http://www.electrical-deals.co.uk/samsung-galaxy-tab-iii-10.1-16gb-android-tablet-with-a-dual-core-processor-wifi.html
4) Samsung UE40F5300AK 40″  SMART Full HD  LED TV

The LED Samsung UE40F5300 Smart TV gives you great internet services, tailored recommendations and stunning full HD. Above everything, it's about picture quality, with a superb full HD 1080 pixel resolution and a dual core processor to create amazingly lifelike images and impressive detail.
You can also access HD channels for FREE via the built-in Freeview HD tuner, giving you access to the likes of BBC HD, ITV HD and Channel 4 HD. Also, the new S Recommendation feature suggests things for you watch based on your viewing habits , it'll then show you the relevant TV listings, it's very cool.
The Smart TV features include a range of apps available to customise your set, including a range of social media apps, BBC iPlayer, ITV Player, 4OD and Demand 5 and much more. All this is available for just £405.99, that's an unreal saving of 38% guys!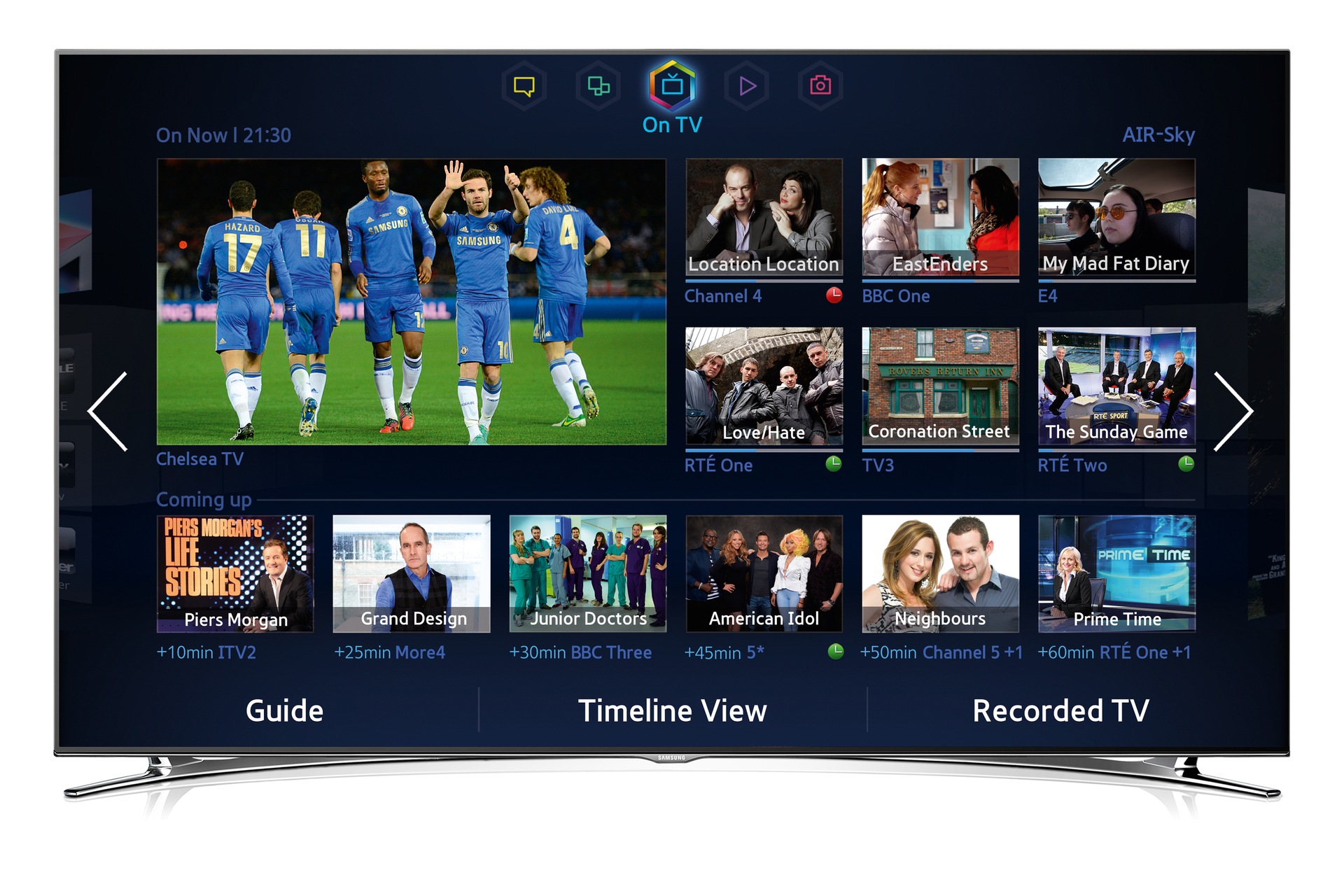 You can find out more about this product or purchase here:  http://www.electrical-deals.co.uk/samsung-ue40f5300ak-40-widescreen-smart-full-hd-1080p-led-tv-with-freeview-.htmll
So there you have it. Four of our favourite Samsung products available both online and in store with http://www.Electrical-Deals.co.uk. You can find all the info on these four items and our whole range of products from Samsung, Toshiba, Panasonic, Sony and much more at our website. You can also keep up to date with all our latest offers, promotions and competitions (previous prizes include a 5%" TV & a Xbox 360), simply by joining us socially on both Twitter and Facebook.
If you want to know any more info on any of these great Samsung products, don't hesitate to get in touch guys 🙂
Regards
Steve